Welcome to the website of Gulf View Estates, located in Venice, FL about 2 miles from Manasota Beach on the Gulf Coast!
We are a friendly community of all ages, consisting of single family homes. We have some deed restrictions that keep our community looking great and a pleasant place to live.
Visit us often as we expand our web site to better serve the Gulf View Estates Community and prospective new residents. Our latest monthly newsletter is always posted here as well as local classified ads placed by our residents. View our latest newsletter!
You may also link from this page to our new Facebook site where residents can meet and share information about our community and add to our photo gallery which has been started with a picture of another perfect day in paradise.
Danger Prowls The Night
Wild critters continue to prowl the neighborhood. A resident recently found a gutter ripped off the house and an adult rabbit stuck in it. The rabbit was freed. It looked like a predator had chased its quarry into the gutter and tried to get to it, dragging the downspout off the house.
Huge developments are being built on all sides of GVE. They are displacing normal animal habitats.
There have been sightings of potentially dangerous animals roaming our neighborhood at night. Pictured below are a bobcat and coyote caught on film.
Please take heed. All small pets are in harm's way if allowed to roam unattended day or night.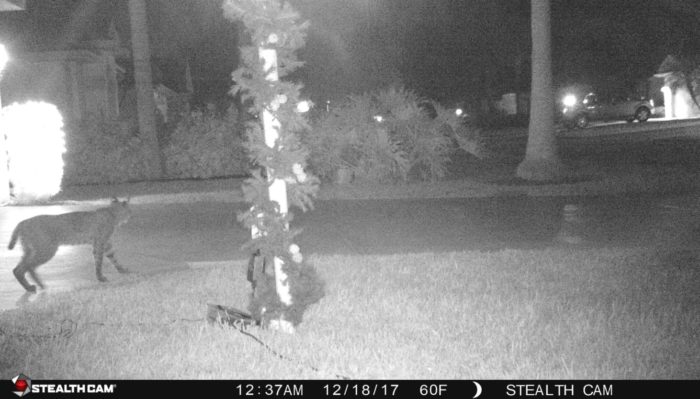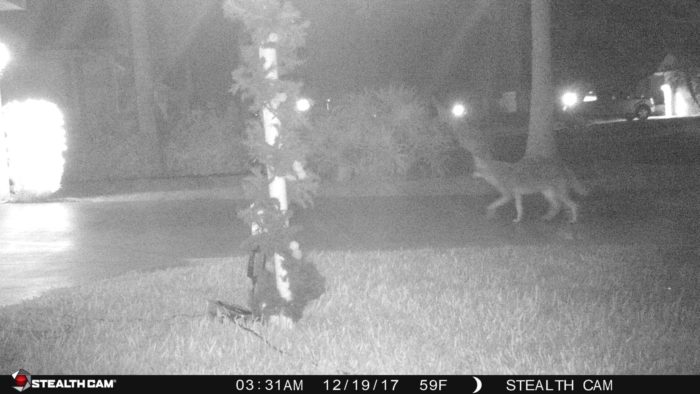 Association/Property Manager
The Association retains Sunstate Association Management Group (SMG) as property manager and they are available 24/7 to assist you. Click here if you wish to contact SMG.